18th - 20th March, 2024 Gold Coast – Qld
Presenting at CAMH24
Together We Stand: The Importance of Collaboration, Connections, Community and Culture
Share your work at CAMH24
Why present at CAMH24?
This is your chance to shine a light on the work you do and yours or your company's mission to make children, adolescents, families and communities safer, happier and healthier.
Share your expertise and knowledge with the wider, CAMH community.
Have your voice at the front of the conversations shaping the future of the CAMH sector.
Inspire your peers with your ideas, insights, research, stories and case studies.
Build your reputation and enhance your professional profile.

Build

your self-confidence and grow in leadership and influence.



Theme and Topics
In 2024, our conference theme is:
Together We Stand: The Importance of Collaboration, Connections, Community and Culture
We will explore into the topics:
Amplifying Voices: Empowering Young People's Meaningful Participation in Decision-Making and Advocacy

Reframing Perception: Young people's right for authentic visibility, mental health perspectives and peer support
Youth Lived Experience in Mental Health - Valuing Perspectives and Creating Career Pathways
Revolutionising Support Systems: Innovative Approaches for Empowering Young People
Digital Duality: Exploring the Benefits and Challenges for Today's Youth

Embracing the Digital Age: How it's Changing the Conversation and how to Leverage the Power of Digital Platforms
Growing Up Online: Navigating the Complexities of Digital Life
Safeguarding the digital generation: Utilising through cybersecurity education and awareness
The Digital Frontier: Exploring the Intersection of Artificial Intelligence and Child and Adolescent Mental Health
Student mental health - building multidisciplinary team approaches with schools and families

Nurturing Minds: Understanding and addressing mental health disorders in young people
Navigating the Depths: Shedding light on eating disorders among young people
Hearing the distress: Understanding and Preventing Youth Suicide
The Crucial Connection: Examining the impact of family issues on young people's mental health
Fostering Mental Well-Being: Exploring the role of schools
Building inclusion education opportunities to foster engagement and met students where they're at
Emerging issues – and how to respond collaboratively and swiftly across the sector.

The COVID aftermath: Examining the lingering impacts on mental health from pandemic restrictions
Navigating Climate Disasters, Anxiety and Rising Costs of Living: Collaborative and Swift Sector-wide Responses to Emerging Challenges
Unmasking the Shadows: Exploring bullying and it's devastating impacts
Sexual Extortion and

targeting by criminal syndicates

Promoting Mental Health, Empowerment and Inclusion for Transgender and Gender-Diverse Youth
Early Foundations: Promoting Mental Health in Infants and Children Under 8 Years
Supporting the social and emotional wellbeing of First Nations, Torres Strait Islander, Māori and Pasifika families and communities

The interplay of indigenous language, community and culture in youth mental health
Self-determination, community-based approaches and access to mental health services for indigenous young people
Cultivation Indigenous Leadership: Empowering Indigenous youth through mentorship and guidance
Promoting Equity and Inclusion: Addressing Anti-Racism and Discrimination
Intergenerational trauma and trauma-informed care for indigenous young people
Celebrating Differences: Fostering Diversity and Inclusion among Young People

Safe Havens: Fostering Equity, Inclusion, Security, and Belonging for LGBTQIA+ Communities
Journey to Resilience: Mental Health of Refugee, Migrant, and CALD (Culturally and Linguistically Diverse) Communities
Embracing Diversity: Affirmative Action and Positive Inclusion for a Diverse Society
Exploring Lived-experience of marginalised and vulnerable groups for inclusive support and empowerment
Breaking Barriers: Promoting mental health and well-being of young people with disabilities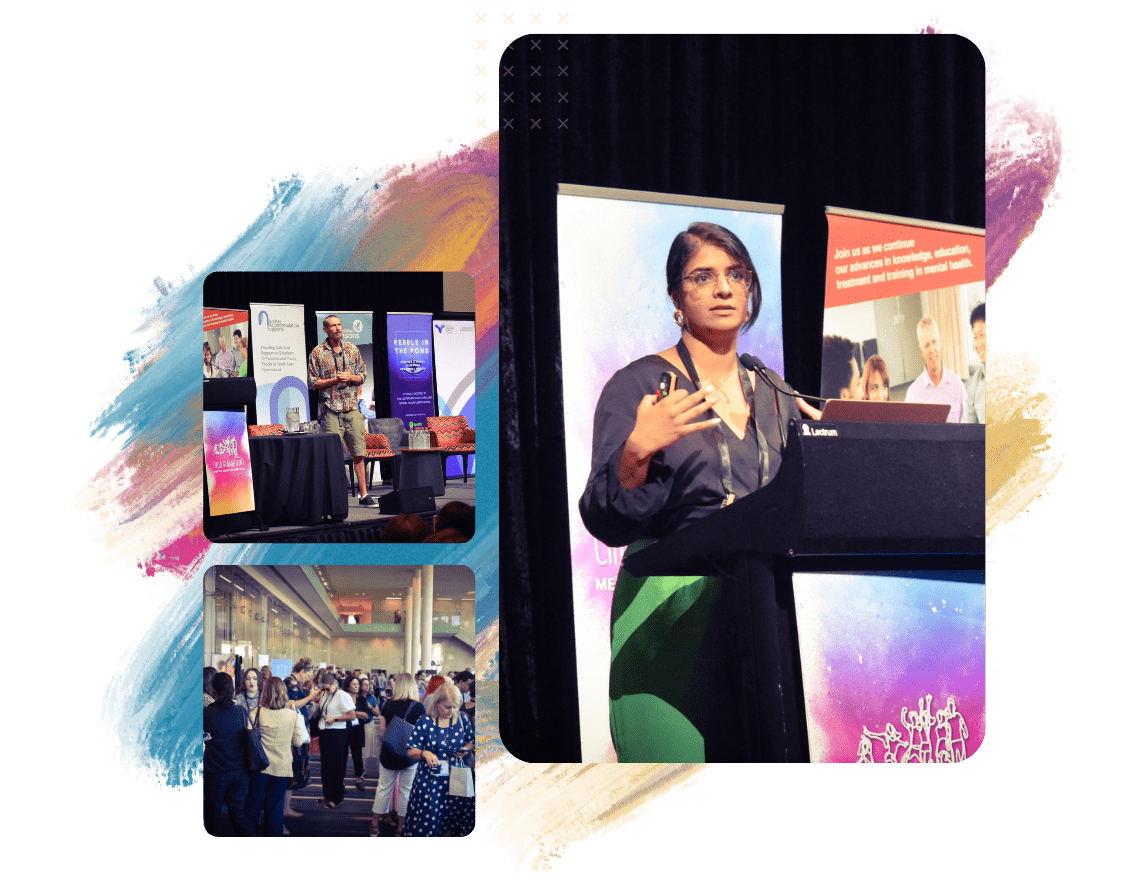 What to present at CAMH24
What content is best suited to share at CAMH24?
If you are passionate about creating services and programs to support the mental health of our young people and you have insights, ideas, research, results or future plans to share - please register your interest to apply now.
The conference committee is looking for presents who are ready to share:
Research findings, data and information which could inspire changes in service delivery and help create a sustainable future for our youth.
Case studies which inspire innovations across digital solutions, service delivery models and community connections.
Best-practice applications to create immediate improvement for services and platforms.
Successful CAMH initiatives and projects which deliver long term success.
Culturally responsive solutions for Indigenous, First Nations people within CAMH.
Presenters are encouraged to share their powerful experiences that address the conference topics with originality and flare. You can choose to present solo or with a co-presenter.

Youth presenters are encouraged to attend with professional peers.
Take the stage and present to the audience in a 15 or 20 minutes speaking session with 5 minutes for questions.
Keep the attention of attendees via engaging, hands-on learning experience in a 90 minute masterclass.
Panel presentations bring together views from a group of presenters into a discussion of innovative ideas, current topics, and relevant issues. Each panel session will run for 60 minutes and will consist of at least 3 panel members.
Visually showcase your research or services via a printed poster, displayed in the conference exhibition area for the duration of the conference. A dedicated 10 minute poster session is included in the conference program.
Important Dates
| | |
| --- | --- |
| Presentation applications open | Thursday, September 21, 2023 |
| Presentation applications close | Friday 13 October 2023 |
| Notifications to presenters | Friday 17 November 2023 |
| Acceptances and registrations due | Friday 24 November 2023 |
| Program launch | Thursday 30 November 2023 |
| Super early bird open | Thursday, 30 November, 2023 |
| Scholarships close | Friday 12 January 2024 |
| Conference dates | Monday 18 - Wednesday 20 March 2024 |