Improving Aboriginal health and well-being: a view from the north
Improving Aboriginal health and well-being: a view from the north
By Lesley Barclay and Tricia Nagel, Menzies School of Health Research
Aboriginal people living in remote communities have much worse health status and longevity than other Australians. And this imbalance will not be remedied until governments work with Aboriginal leaders and communities to address inequalities in education, economic opportunities, and housing.
Offering Australians at most risk of bad physical and mental health the worst health services is a social justice issue. Poorly-designed mental and child health service models and the lack of adequately specialised staff is compounded by the absence of Aboriginal community leadership. And without leadership, Aboriginal people struggle to access effective and culturally safe treatment.
Between us, we have spent 38 years working in Aboriginal health. Lesley Barclay has recently been working on a project aiming to inform improvements in maternal and infant health care, while Tricia Nagel has been exploring Aboriginal and Torres Strait Islander perspectives of mental health.
In recent years, we have worked together on research lead by Tricia Nagel around remote mental health services. Here are some of the things we have learnt and think deserves attention.
A poor reflection
We know that complex chronic disease starts in the womb and we know social distress contributes to mental illness and self-harm.
But Aboriginal infants in northern Australia still begin life lighter than other Australian babies and nearly 30% require admission to a neonatal nursery for care. This figure is more than double the rate of other babies elsewhere in Australia.
At six months, 68% of Aboriginal infants are anaemic, and 86% show faltering growth in their first 12 months.
Surveys of Aboriginal and Torres Strait Islander people show consistently higher rates of psychological distress; their rates of anxiety and depression symptoms are between twice and three times higher than for non-Indigenous Australian adults.
Despite all this, our research shows many Northern Territory clinicians struggle to identify and treat anaemia and low weight in infants. Nor do they deal adequately with the persistent grief and mental and social distress of many Aboriginal people.
This is a poor reflection on our health system's performance.
Potential and problems
A poor start to life can be modified, to an extent, by natural resilience, and at least some individuals do have the ability to bounce back. But good quality health care is essential.
There are effective treatments to mitigate some of the consequences of Aboriginal disadvantage, but government-run services do not always provide them. The skills and knowledge of health practitioners and their capacity to work effectively across cultures is sorely lacking.
We could promote healthy weight gain in underweight infants and identify problems of mental health and well-being before they become severe. But we need accessible, culturally safe assessments and appropriate interventions to do this.
Stigma in relation to mental health problems reduces "help seeking" by community members. Sensitive screening can identify needs and institute treatments before a minor problem becomes a crisis.
But this requires a community-based and client-centred approach to care, rather than the current health-centre focused model.
Such cultural challenges persist because there are so few Aboriginal health professionals available to provide care and teach their non-Aboriginal colleagues.
Medical staff in remote communities are generally few in number and under-qualified to deal with the volume and acuity of care in child and mental health. There are no full-time, qualified child health workers devoted solely to the hundreds of children under five in large communities, for instance.
Similarly, the burden of mental disorders is so severe in remote communities that it will require skills and confidence to engage in care, early intervention and provision of culturally-appropriate treatment. These skills are rarely present among the generalist staff.
A possible model
But it's not all bad news. Despite facing the same challenges as the rest of northern Australia, the Northern Territory's health system has considerably improved how it deals with chronic disease, maternity care and substance misuse recently.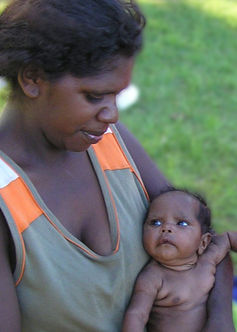 What it has achieved could guide system improvement within mental and child health across northern Australia.
Midwives now work with pregnant women and new mothers in larger communities in the territory; and one known midwife provides consistent care for women transferred to regional centres for birth.
This continuity of care has improved the quality of services – fewer women have no antenatal care and testing and smoking cessation has advice improved; there's been a reduction in fetal distress during labour; and, a higher proportion of women receive postnatal contraception advice.
How women engage with the health system has improved, resulting in midwives receiving text messages reporting baby weight many weeks after birth. A cost-consequences analysis has shown savings based mainly on significantly reduced birthing and neonatal nursery costs.
The remote substance misuse workforce receives daily supervision from staff in health centres, as well as face-to-face supervision, training and advocacy support from specialist alcohol and other drug-use nurses and psychologists.
A specific chronic disease worker role has recently been established, alongside improved data monitoring and skilled clinical governance. This appears to be making a significant difference in the quality of care by using locally-managed treatments.
The underlying issue
The Northern Territory health system has made good progress in chronic disease management and maternity care, and is investigating better ways to provide child health services. But there is still a long way to go to improve infant care and promote mental health and well-being.
The underlying issue is equity – a significant number of already vulnerable Australians are getting much worse health care than they need and deserve.
The lack of staff adequately prepared to deal with the volume and acuity of infant illness and the lack of physical and mental wellness in remote Aboriginal communities would not be acceptable elsewhere in Australia.
As citizens, we find the situation is inexcusable; as health practitioners we can see the reasons for it, as well as its impacts; and as researchers, we hope that the data we've gathered is used to stimulate debate, generate much-needed changes and contributes to improving the health-care system.
Lesley Barclay has just ended a five-year NHMRC-funded research project with two of the largest remote Aboriginal communities and health system leaders in the Top End of the Northern Territory.
Tricia Nagel receives funding from beyondblue and has a fellowship from the NHMRC.
This article was originally published at The Conversation.
Read the original article.