How is Play Important in Child Development?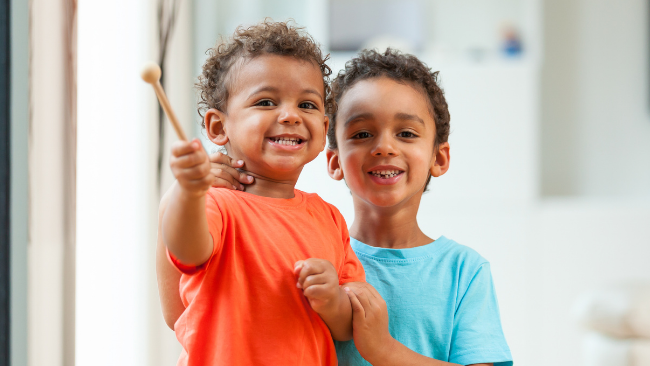 Observe how your children express themselves through play. Do they like role-playing as an astronaut, riding a bike, or playing soccer? No matter how they enjoy their playtime, play is a vital part of their development as a child (1).
It can be a chance for parents to bond with their children. Scheduling picnics or playdates in the park is one way of enjoying your parent-child bonding time.
As your child revels in their playtime outside, always remember to apply the best protection and care to maximize their exploration of the world.
Letting your child experience life through play is a way for them to develop socio-emotional, physical, and intellectual growth (2-3).
Children learn new skills and competencies by experiencing the world and interacting with others through play.
It helps them exercise their imagination and creativity, as well as their cognitive, physical, and emotional strengths (4).
Four Benefits of Play
1. Cognitive Development
One of the benefits of play is the development of your child's creativity and imagination. During imaginative play, your child assumes roles and visualizes fictional environments that can employ creative thinking.
Playing can help with your child's memory enhancement, focus and attention improvement, and thinking skills. Play also enriches their problem-solving skills and recognition of shapes, colors, letters, and other concepts.
2. Socio-Emotional Development
Activities, like role-play or dress-up, encourage your child to learn how to interact and relate with other people.
Playing can be a way to strengthen their confidence as they experience challenges and successes.
Exposing your child to playtime with other children can also help them practice empathy, honesty, and fairness.
3. Physical Development
Allowing your child to run around and do active play helps with their overall health and physical development.
Through physical play, children can explore sports, enhance their physical skills, and reap the benefits of an active lifestyle.
4. Literacy Development
Some play types motivate children to learn and understand language and numbers. This kind of play can deepen their skills, like literacy, drawing, writing, coloring, reading, and counting.
Frolicking and having fun can also stimulate children's curiosities, interactions, and interests in exploration. These activities help develop their foundational learning skills.
As parents, you should contribute to your child's learning through play. This activity culminates in parent-child interactions and bonding to reinforce values and ideals that help in the development of your child.
Types of Play
There are five types of play essential for a child's development. These play types are differentiated based on how they support and relate to a child's learning (5).
Physical Play
It is essential to keep your child physically active to build their physical strength and endurance (6).
Physical play makes use of their motor skills, like jumping, running, or dancing. Motor skills can also be displayed through coloring, sewing, or toy construction.
These types of play are said to enhance hand-eye coordination and overall physical body development (7).
Play With Objects
Playing with objects starts as early as when an infant learns how to grab a toy or a thing. This type of play is associated with sensory-motor learning, which involves exploring and sensing how objects work and feel.
Toddlers observe behaviors like construction and building. These physically observable behaviors help children develop a narrative in their minds as they play with objects or toys (8).
Playing with objects is connected to the construction of "private speech" among children (9). Private speech helps stimulate their focus and strategic thinking.
Symbolic Play
Children can develop abilities to reflect and express their emotions and ideas as early as five years old. Playing with music and language may elicit the process of making up words, rhymes, and sounds.
One of the significant activities in a symbolic play is drawing. Through illustration, your child can demonstrate visual vocabulary and make sense of a symbolic representation (10). Your child can also express his or her view of the world by drawing.
Socio-Dramatic Play
Pretend play, also called free-play, is under the socio-dramatic type of play. It is when a child follows the rules and characters that they are portraying.
This type of play enables your child to imbibe the ability to control behavior, emotions (self-regulation), and self-restraint (11). Children also learn social and cooperative skills from socio-dramatic play.
Games With Rules
Some examples of games with rules include hide and seek, sports, electronic games, and board games.
Through these games, children are encouraged to comprehend and follow the rules. Focus and motivation are practiced when playing these types of games.
Playing board games and other games with rules with family or friends can also be a fun way to strengthen the child's social skills.
Author's Bio
Stanley Clark is a community development volunteer and writer. He has worked on several commercials, events, and campaigns. Recently, he has moved to writing in the area of natural health and wellness, contributing regularly to CBDClinicals.com &
W-radiology.com.
References
Olfman, S., (2003), All Work and No Play, retrieved from https://books.google.com.ph/books?hl=en&lr=&id=mQJV8waGTmcC&oi=fnd&pg=PA17&dq=play+is+a+vital+part+of+their+development+as+a+child.+&ots=Es3-TGuhwp&sig=hvSbnGxjOn3lNXuzrqBQZIt8OkM&redir_esc=y#v=onepage&q=play%20is%20a%20vital%20part%20of%20their%20development%20as%20a%20child.&f=false
Ginsburg, K. R., (January 2007), The Importance of Play in Promoting Healthy Child Development and Maintaining Strong Parent-Child Bonds, retrieved from https://pediatrics.aappublications.org/content/119/1/182#:~:text=Play%20allows%20children%20to%20use,important%20to%20healthy%20brain%20development.&text=It%20is%20through%20play%20that,in%20the%20world%20around%20them.
Whitebread, D., Basilio, M., Kuvalja, M., Verma, M., (April 2012), The Importance of Play, retrieved from https://www.waldorf-resources.org/fileadmin/files/pictures/Early_Childhood/dr_david_whitebread_-_the_importance_of_play.pdf
Ginsburg, K. R., Op. Cit.
Whitebread, D., Op. Cit.
- 11. Ibid.