Monday, 29th April to Wednesday, 1st May 2024
Breaking
the
barriers.
The A to Z of addiction trends and treatments.
Presenter applications are now open. Apply before October 27th.
Next Section
Formerly the Australian and New Zealand Addiction Conference, AddictionZ is an annual event, encompassing the A to Z of addiction trends and treatments. Bringing together the AOD, mental and behavioural health sector in a new format, with a new vision.
Recognising that addiction is more than just drugs, alcohol and gambling, we've put together a bold and inclusive program with collaboration at its core. Join us on the Gold Coast from April 29th - May 1st, 2024.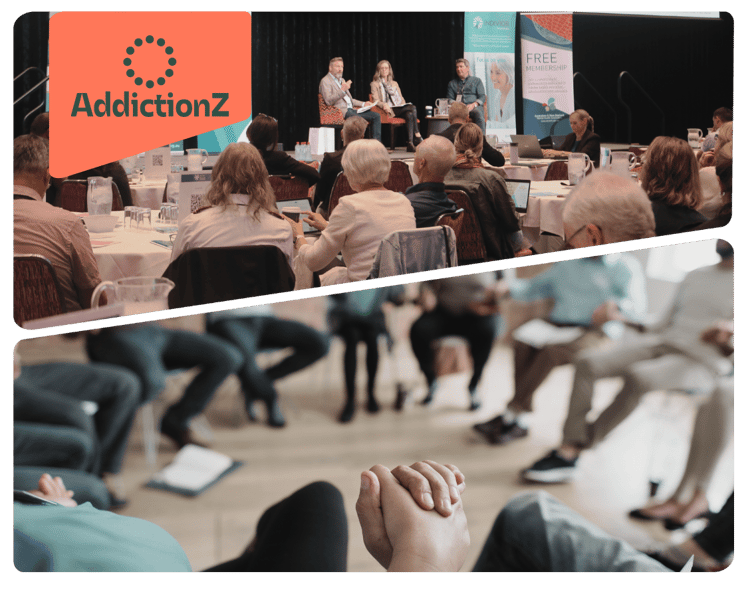 What will you gain from AddictionZ?
Does this sound like you?
Is AddictionZ for me?
What will I gain from attending AddictionZ?
The Fun Stuff
Who attends AddictionZ?
Here's a snapshot of delegates who typically attend AddictionZ
AddictionZ brings together mental and behavioral health professionals, peer and support workers, people with lived experience, as well as government and policy professionals within the AOD sector.
Delegates include:
AOD sector workers and mental health professionals 
Psychologists and psychiatrists 
Case workers
Addiction specialists and NGOs
Allied health workers
Rehab facility workers and leaders 
Research officers
AOD case managers
Government representatives and policy makers 
Indigenous liaison manager
Youth workers
Social workers
Counsellors
Community support workers
Is AddictionZ for me?
Yes! AddictionZ is the conference for you if you're looking for….
Honest and brave conversations around addictions, mental and behavioural health.
Thoughtful sessions from some of the sector's leading minds.
A platform to ask the big questions and address the more pressing issues within the sector.
Information on new ideas, holistic treatments, innovations and technologies supporting sector professionals.
A break away from your every-day to focus on the future of the sector.
What will I gain from attending AddictionZ?
Connection, Fresh Thinking, Support
Connect with your peers across the AOD, mental and behavioural health sector; learn from each other, network and share.
Be refreshed with new ideas and innovative approaches to treatment and recovery models.
Walk away engergised by the changing landscape of the sector and your future within it.
You'll have:
A personalised letter of attendance
Over 10 hours towards CPD
Access to the conference app
Access to all recorded keynote and concurrent presentations (For 30 days)
The Fun Stuff
Attend AddictionZ on the Gold Coast and enjoy:
An exclusive welcome networking function with drinks and canapes
A 5-star catering package for the entire conference with morning tea, lunch and afternoon tea
The chance to win awesome prizes at the event
Chillout mindfulness zones
Special extras we organise for all delegates
Returning delegate gift if you're joined the conference in past years
Introductions to exhibition partners to see what's new and interesting in the sector
AddictionZ connects mental and behavioural health professionals with integrated approaches to prevention, treatment, and recovery.
Anastasia Hronis
Nicholas Carah
Nicholas Bloom
Aaron Drummond
Anastasia Hroni, Clinical Psychologist University of Technology Sydney
Dr Anastasia Hronis (B Psych (Hons), M Clin Psych, AMusA, LMusA, Ph.D) is a clinical psychologist, working across both academia and clinical practice. Dr Anastasia is a lecturer and researcher at the University of Technology Sydney. Her main area of research is in addictions, with particular interest in both problem gambling and "responsible gambling" initiatives. She has published her research in top rated journals and presented her work at national and international conferences. Dr Anastasia is also the founder of the Australian Institute for Human Wellness, an organisation dedicated to meeting the mental health needs of individuals and communities. Nicholas Carah
Bio coming soon.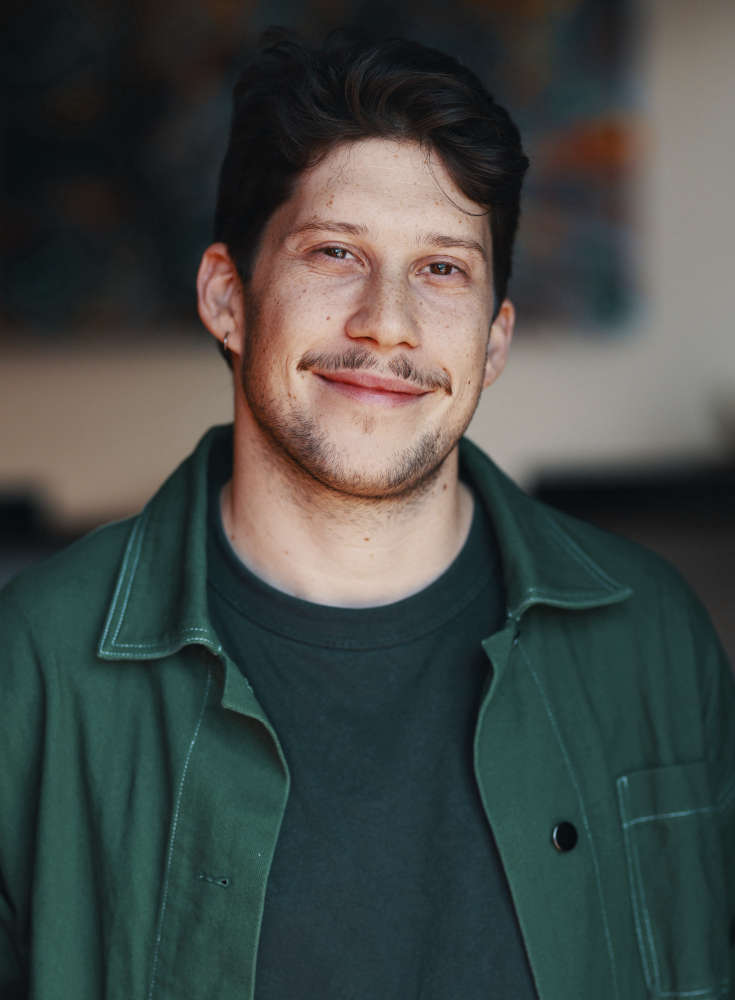 Nicholas Bloom
Bio coming soon.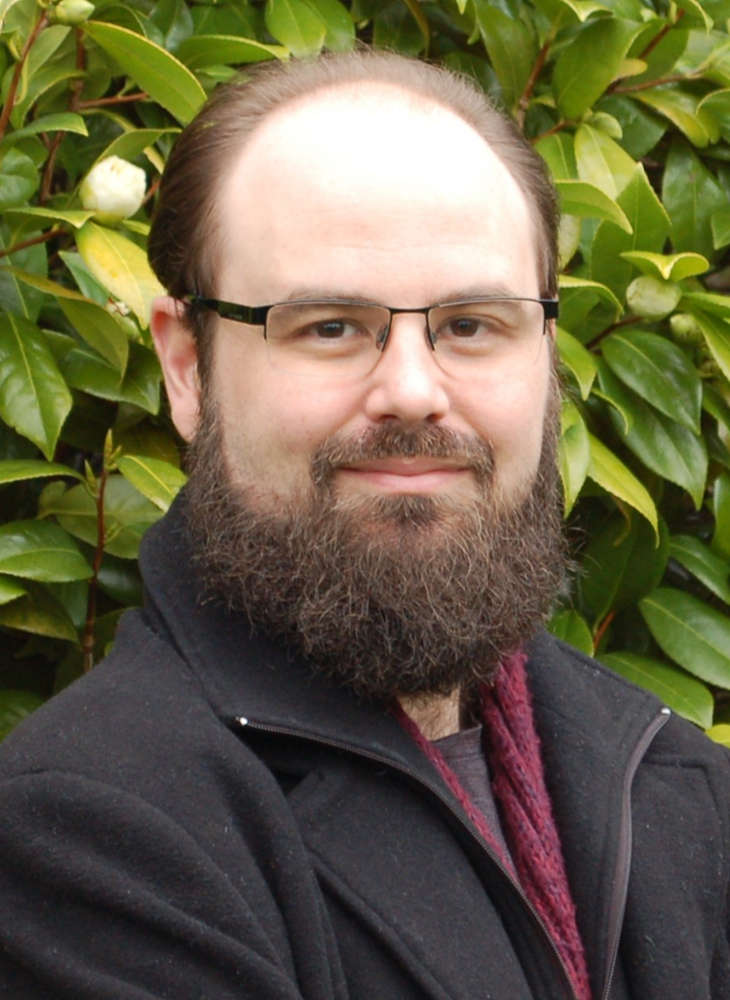 Aaron Drummond
Dr. Aaron Drummond is a cognitive cyberpsychologist with a keen interest in the psychological antecedents and consequences of digital media and technology use. Aaron's research is concerned with issues such as the psychological effects of digital media use on aggression, mental health, academic performance, and cognition. Most recently, Aaron's research on similarities between loot boxes in video games to conventional gambling has been published in the leading journals "Nature Human Behaviour", "Addiction", and "Computers in Human Behaviour". He has contributed oral and written testimony to Governments on the subject of loot boxes in Aotearoa New Zealand, Australia, the UK, and the USA.
The AddictionZ Program
What will I hear at AddictionZ?
The full program will be announced in the coming months. Take a look at the main topics and sub-topics which will form the program.
Embracing Hope through Empowering Pathways: Integrated Approaches to Prevention, Treatment and Recovery.
This year's topics are:
Unveiling the Bond: Exploring the Trauma-Addiction Connection:

Trauma to Transformation: Uniting Understanding, Treatment and Recovery in Addiction Care
Society and Systems: Empathic Approaches to Healing and Recovery in Addiction, Mental Health and Trauma within the Social Context
Empowering Resilience: Nurturing and Understanding Trauma, Cultural Sensitivity and Family Dynamics

Breaking New Ground: Exploring the Latest Advancements in Addiction Treatment

Revealing the Future: Exploring Emerging Trends in Addiction Support
Exploring the Potential of Innovative Technologies and Digital Interventions in Addiction Treatment
Revolutionising Recovery: Harnessing the Power of Artificial Intelligence in Addiction Support
Therapeutic Approaches: Psychedelic-Assisted Therapy
Neurobiology of Addiction: Understanding Brain Mechanisms
Ethics in Addiction Research and Treatment: Ensuring Patient Welfare and Confidentiality

Breaking Free: Understanding Non-Substance Dependencies in Addiction

Understanding Behavioural Addictions: Expanding the Scope of Addiction Support
Gaming to Gambling and the Digital World: Investigating the Frontiers of Technology and Addiction
Breaking the Taboo: Recognising and Treating Sex and Pornography Addictions
Building Resilience: Strategies for Overcoming Non-Substance Addictions
Sexual Wellbeing and Relationship Dynamics

Reshaping Addiction Care: Promoting Holistic Healing for Diverse Addictions

Breaking the Stigma: Adopting a Person-Centred Approach
The Power of Connection: Fostering Supportive Communities in Addiction Healing
Embracing Wellness: Promoting Physical and Mental Health in Addiction Support
Exploring Integrative Approaches: Balancing Mind, Body and Spirit in Addiction Recovery
Promoting Recovery Capital: Building Resilience and Sustaining Long-Term Recovery

Celebrating Ancestry, Empowering Recovery: Advancing Addiction Care in First Nations, Indigenous and Marginalised Communities

Cultural Resilience: Honouring Traditions in Addiction Recovery
Connecting to Country as a healing modality
Addressing Historical Trauma: Healing the Past, Embracing the Future
Community-Centred Approaches: Strengthening Support Systems in Vulnerable Communities
Inclusive Care: Tailoring Addiction Services to Cultural and Linguistic Needs
Empowering Voices: Amplifying Indigenous and First Nations Perspectives in Addiction Support
Cultivating Trust and Collaboration in Diverse Communities

Addressing Substance and Behavioural Addictions: Navigating Harm Reduction Strategies within Legal Constraint

Prevention through Policy: Promoting Safer Consumption and Harmful Gambling
Alcohol and Gambling Advertising and Marketing: Exploring Ethical Constraints and Impact on Harm Reduction
Industry Responsibility: Advocating for Ethical Practices in Alcohol and Gambling
Socioeconomic Factors and Addiction: Tackling Inequality, The Role of the System and Access to Support

Transforming Addiction: Justice, Policies and Law Reform for Lasting Change

Redefining Justice: Ensuring equitable access to treatment, support services and addressing systemic barriers and disparities
Evolving Policies for Effective Treatment: Evidence-based approaches to policy development
Legal Reforms for a Progressive Approach: Decriminalisation and alternatives to incarceration
Shifting from punitive to rehabilitative justice: enhanced reintegration treatment to reduce recidivism
Intersectionality in Policy Development: Understanding the impact of addiction on marginalised communities
The AddictionZ Committee
The sector leaders who help create AddictionZ 2024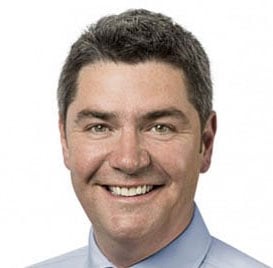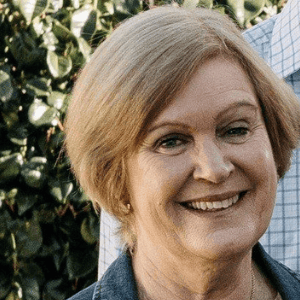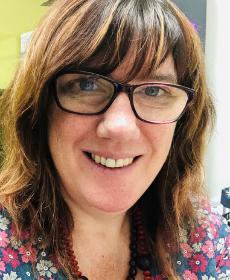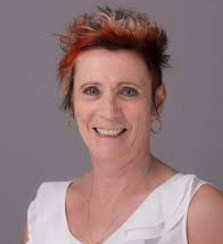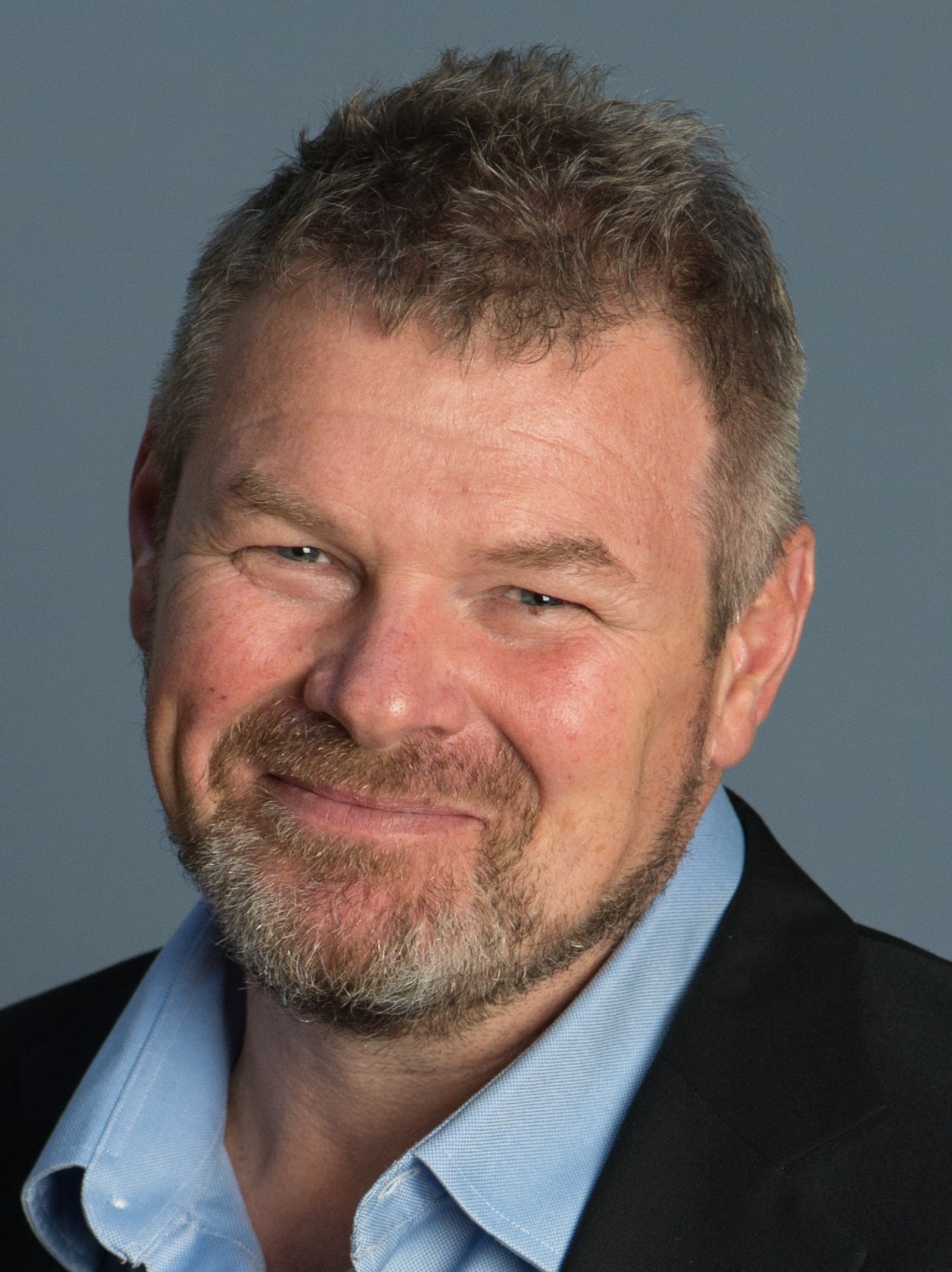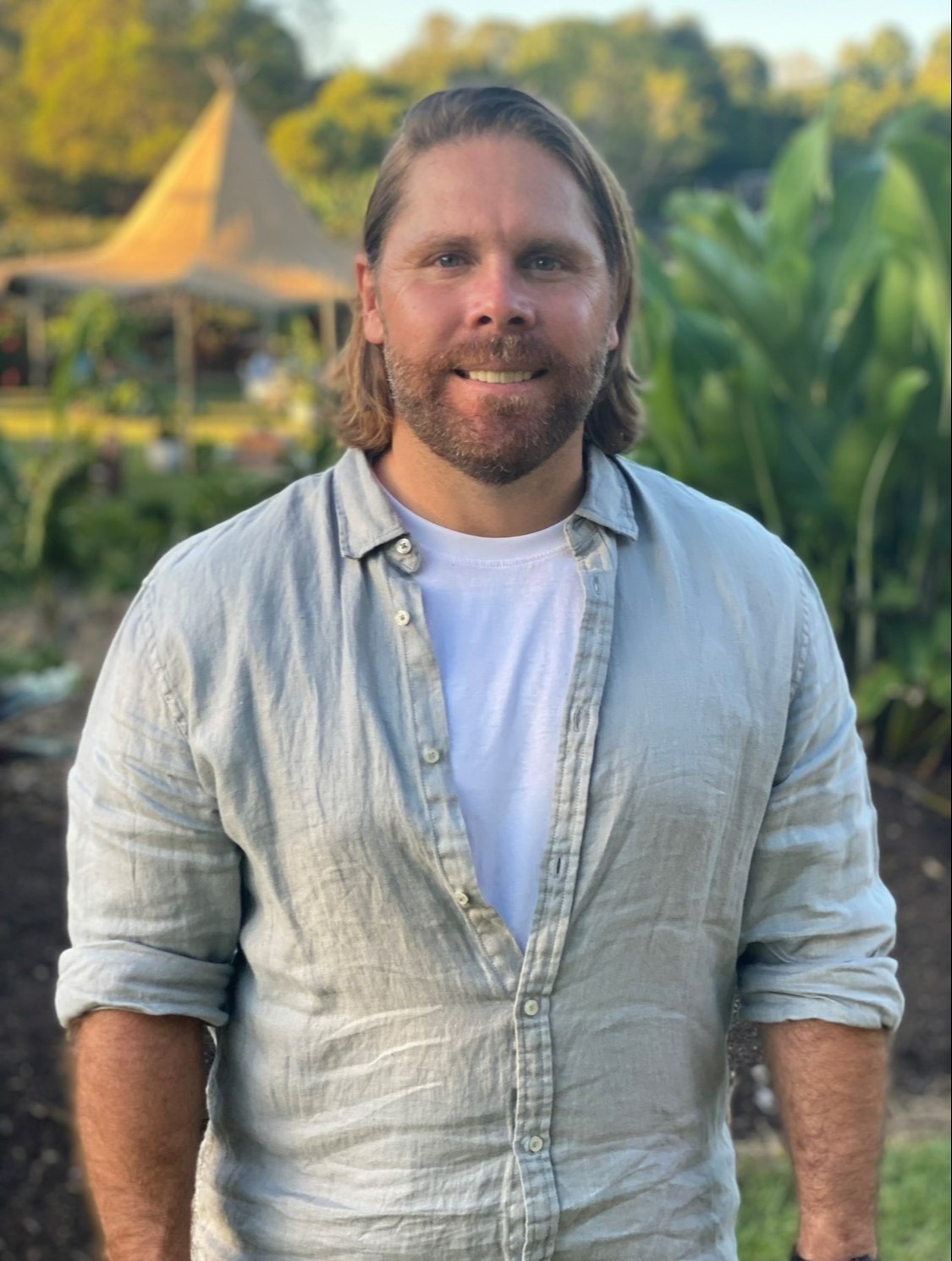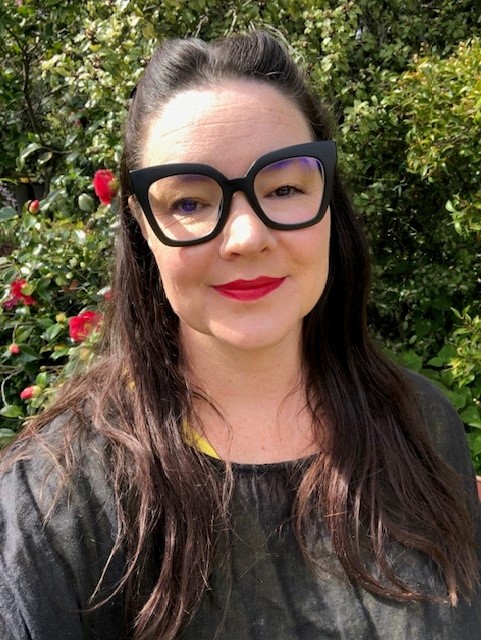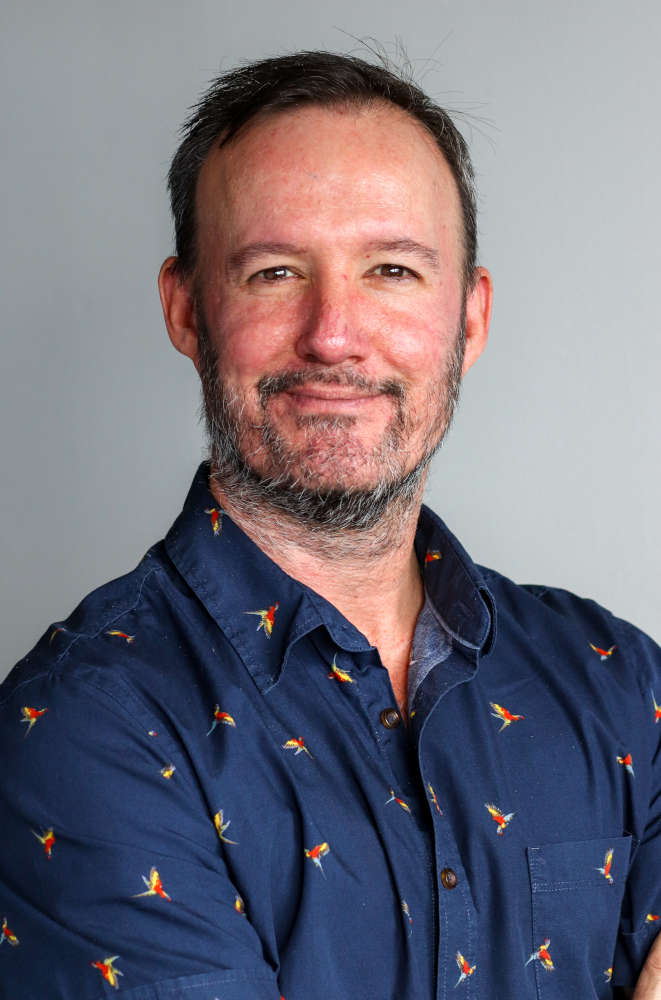 Registrations will open Tuesday, 5th December, 2023
Register your interest to attend AddictionZ 2024
Be part of this exclusive sector event. Only 250 registrations available.
What People Are Saying
Testimonials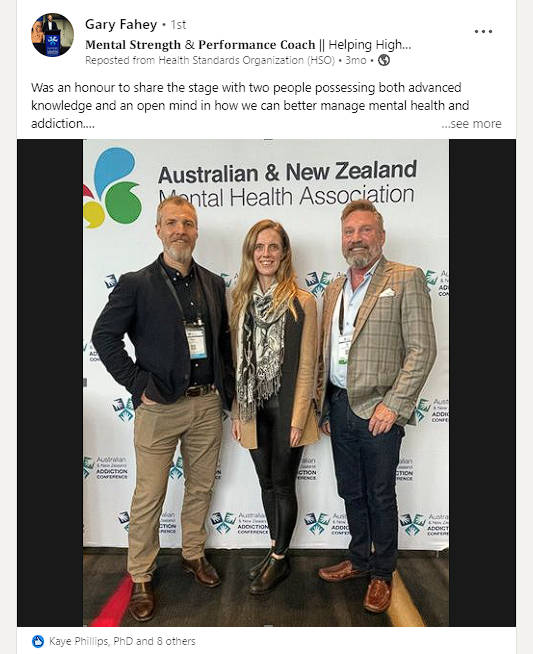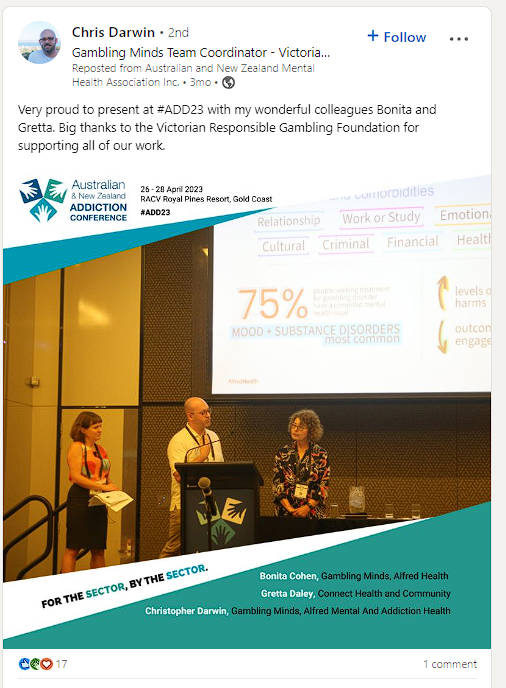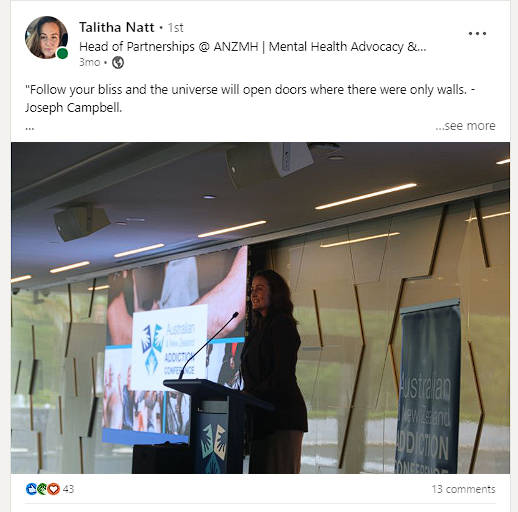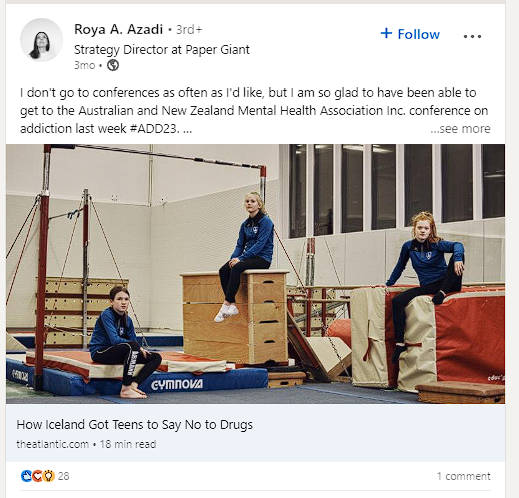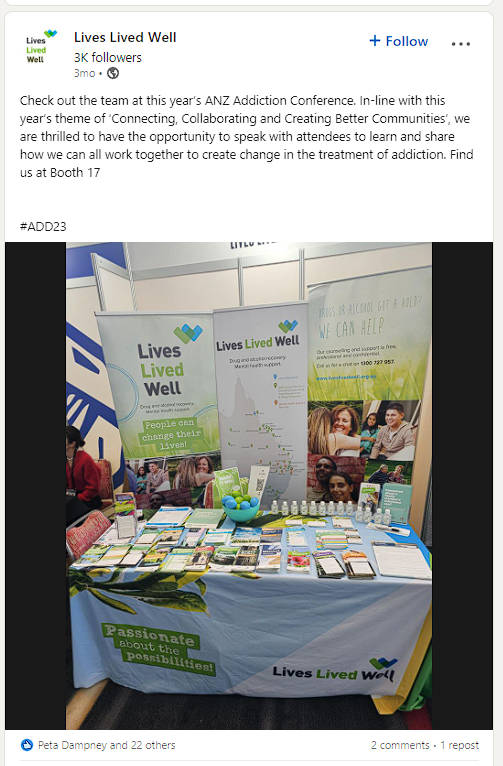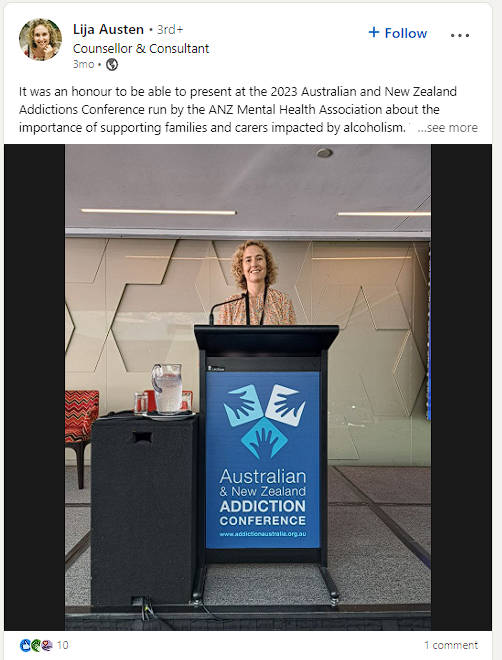 Where It's Happening
Venue & Accommodation
Monday, 29th April to Wednesday, 1st May 2024
AddictionZ 2024 will be held at:
JW Marriott Gold Coast Resort & Spa, QLD.
Accommodation is optional and can be booked during registration.
Guest room with breakfast for up to 2 guests - $370