Interview with: Rianon Wright, ANZMH Association Study Grant Recipient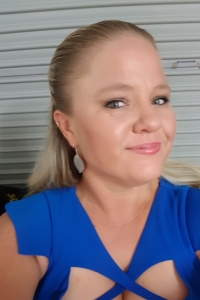 Earlier this year, the Australian & New Zealand Mental Health Association awarded two $5,000 study grants to individuals looking to start their career in mental health.
Rianon Wright was one of our selected recipients. Read on to find out more about Rianon's experience with mental health, and how she became inspired to make a change.
What inspired you to apply for the ANZMH Association study grant?
I was born in Nowra NSW. I'm the eldest of two daughters. My mother was a stay at home mum and my father was a pilot in the Royal Australian Navy. I idolised my father as the man in the white suit.
My parents were very supportive of everything I did. Through my younger years, I excelled in horse riding and was a state champion by 12 years old. I was very athletic and was known as an animal lover and a free spirit. In 1991 my father served in the Gulf War. I believe this to be the turning point in my life.
My parent's marriage fell apart and they separated (I believe this to be from the trauma of war). My father got out of the Navy and moved to Townsville to fly the QLD Rescue Helicopter. My parents tried to get back together and my mother, sister and I moved to Townsville in 1996. After 12 months my parents separated again but this time it was final. My sister and I moved in with my mother and she pretty much raised us over the years. This was the beginning of the end for me.
My father became quite absent and our relationship became estranged. As I look back on these times I began to struggle with anxiety from as early as 13 years. I remember quitting my pet shop job as I could no longer make it to the door of the shop due to panic attacks (at this time we didn't even know what mental health was).
From 13 years old until I turned 30 I self-managed my mental health with substance abuse. I became an alcoholic. Looking back and before diagnosis my anxiety was hectic. I worked at the Townsville airport in a number of airlines for over 10 years. I remember numerous occasions when my voice would crackle my throat would tighten and I couldn't speak over the PA system. I would hide in the aerobridge and have a panic attack before pushing through and doing my job. I just thought it was because I drank and smoked a lot.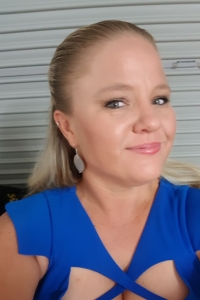 As life progressed so did my illness and maladaptive coping mechanisms. My behaviours were getting riskier and the care factor of life was decreasing. By this stage, I was working in the mining industry FIFO on a 7/7 roster. I lasted 2 years out there after being majorly bulled in the workplace. This was enough to tip the scales.
Dealing with life with more drinking I spiralled out of control. I finally tried to stop but I couldn't. I began having withdrawal seizures that put me in hospital and I ended up coming out with a neurologist, psychiatrist and psychologist. It took me 12 months of trying to get back on track but the beginning of my recovery ended up with 2 bottles of gin and a self-harm incident.
I've barely looked back. My family intervened and I was thrown into therapy and made to resign from my job. With the support of AA, Glen Davey (psychologist) and Dr Riccardio Caniato (psychiatrist) I could not have done this without them.
I've been clean and sober 7 years and my anxiety and depression are manageable most of the time. I practice mindfulness meditation and exercise as frequently as possible. After about 3 years I eased my way back into society and partook in study. I have completed 2 diplomas and have spent nearly 3 years in the industry. I have worked as a support worker with OZCARE drug and alcohol rehabilitation service and 18 months working as a community mental health practitioner with Mind Australia. I am currently a student and in the process of completing a Bachelor of Psychology at James Cook University.
I was advised by fellow students about study grant opportunities and I chose to apply with ANZMH Association.
I'm passionate about helping others and supporting my peers in the workplace. ANZMH Association stood out to me as education and support of professionals is a much-needed service. People who serve those with mental health need to be trained and supported accordingly. Mental health is broad and I believe it's imperative for everyone to be able to work together and collaborate.
Why is mental health important to you?
It's important to me because I've lived both sides of the fence. I know how hard it is to try to manage (and not manage) anxiety and addiction without support and education. Good mental health is really important for the quality of life and operating daily activities. To have the knowledge and awareness of one's self and to know about the support available and be able to access this. Life is better when it's manageable.
Mental health is important at every stage of life and helps us to determine how to deal with stressors, life situations and relate to others. We should never feel like we are alone.
What change would you like to see in Australia's approach to mental health?
By reducing stigma through societal and professional domains.
Mental health is not a one size fits all and I believe health care professionals need to be joining and working together.
Governments need to be more clear on their responsibilities and respective roles to be able to provide the support required to workers.
To look from a causation approach and how we can better place preventative strategies and improve community well being.
Be more open to new treatments and advance in Australian based research.
Is there anybody in particular who inspired you to get into the industry?
Yes. Glen Davey from Innovation Psychology in Townsville. He was my psychologist for over 3 years and helped me change my life.
My experience with Glen opened my eyes to a whole new world and the world of psychology. I didn't just learn about myself but I also learnt how powerful psychology can be. I was so broken that I was willing to give anything a try but I was also stubborn, hard and had many walls to be broken down. I need straight to the point kind of people and Glen was on the mark. He allowed me space but called me on my crap. Over my time with Glen, we used a number of treatments like EMDR, CBT and hypnosis.
Glen was just starting out with neurotherapies and I put my hand up to be a guinea pig. Another interesting journey and learning about the brain. Glen was open-minded non-judgement and went above and beyond to assist me in my recovery. Glen inspired me with his works from a trauma-based perspective and his active role in the community. Glen works closely with defence and emergency services who suffer from PTSD. I think this was also close to home as my father served in the navy and was the rescue helicopter pilot in Townsville for over 20 years.
What do you hope to achieve with your studies?
The ultimate goal is to have my own practice as a registered psychologist.
Once I have my degree I hope to work within the industry to gain hands-on knowledge, network opportunities and experience before settling down in my own practice.
I am passionate about a few areas and unsure which will be my specialty. My past leads me to mental health, addiction and trauma-based therapy.
I love to travel so international opportunities will also be looked upon.
I would to thank everyone involved with this study grant. I am greatly humbled.